** Hundred and Seventy One **
okay. today's post. i just finished filling up four scholarship forms for Star Edu Fund. i have a terrible headache. and i practically wanted to write my birthday was 16/11/2010. and i literally forgot my phone number. lmao.
dont ask me why i changed my blog all the sudden. i just felt like doing so. i believe in simplicity. lol.
______________________________________________
ladies and gentlemen and amphibians that read this yellow blog. (lol...yellow blog)
today's special, we have grass as your starter. rumput and your main course. and ice cream for desserts.
all carefully prepared by your very own chef, zafran amsyar.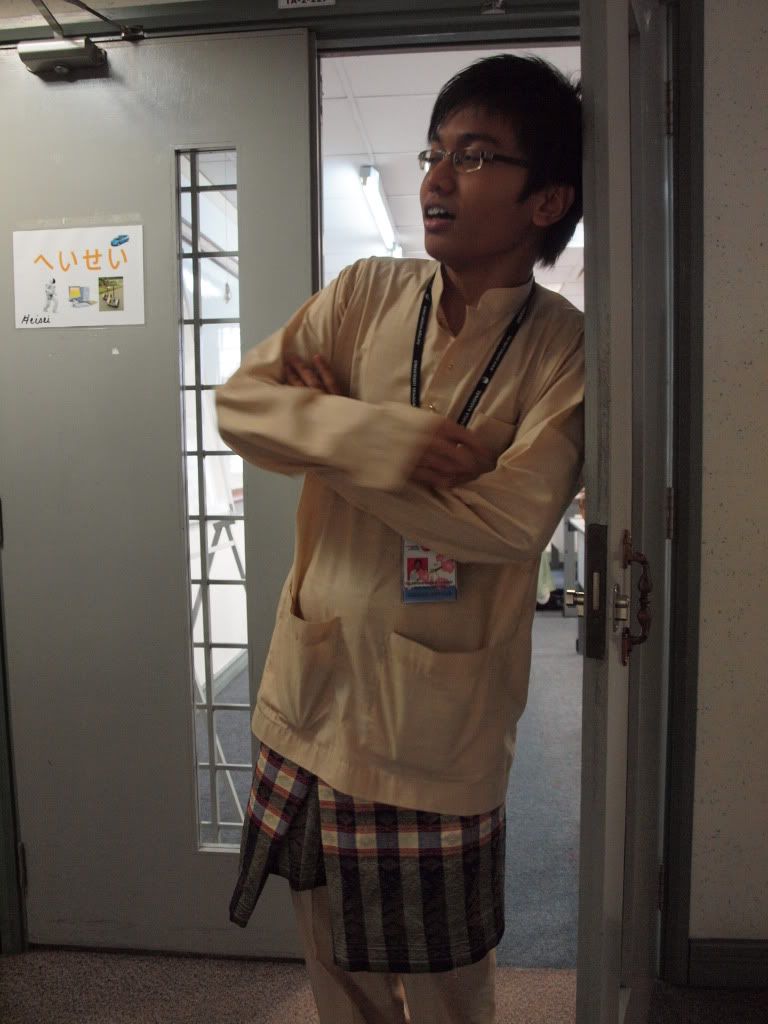 and i will be your lovely waitress for today.
your starter begins with a tinge of teasing which leads to a string of constant "apa?!". carefully diced fish ball are added. and when the fish ball loses her elasticity, rubber is required to give it that fun feeling. and your chef personally went to pick the best one out there for today's special. quietly it is brewed with the slowest flame to aquire that shyness that lingers in the aroma of the dish. it is then tasted. not until the aroma disappears does the starter be served.
and there you have it ladies and gentlemen and amphibians. grass.
next we have our main course.
we have your everyday food. your assitant chef (which i have no idea who) fries the egg as we have ran out of seaweed to make onigiri. freshly picked tomatoes from our personal farm are squished and made into sauce to accompany this onigiri for todays special. it is then wrapped and placed in a bucket of green ice. a little bit of cream is added into the onigiri while it's still cold. your chef fries another egg cuz the useless assistant didnt do it too well. the rice ball is once again wrapped in the warm safety of the fried egg gently by your chef. the onigiri is then refrigerated for a while. your chef takes off his specs before doing so as it fogs up his specs when he opens the fridge. it is a rare sighting ladies and gentlemen and amphibians. and let me tell you, his eyes are small. (lol.this is gonna cost me my job.) ok, where was i... your chelf then gently slaps on some carrot milk onto the dish. then it is decorated with green gummiebears before serving.
ladies and gentlemen, rumput. (ehem..) ou...not forgetting amphibians as well.
your dessert is very simple. its just an ordinary ice cream. personally made from a famliy recipie brought down for generations. a string of caramel ribbon with biscuit crumbs. this ice cream takes approximately 2weeks to make to perfection. and yes, ladies and gentlemen and amphibians, it is made personally by your chef for today with tender loving care. not to mention a whole lot of patience. this is one icecream that is garanteed to make you smile.
therefore ladies and gentlemen and amphibians. enjoy your dessert.
usually i'd turn in before the chef even finishes cleaning up. but for tonight, your chef has been tired out and is currently sleeping on the kitchen floor. which by the way is hygienically proven to be bacteria, virus, dust and rain free.
thank you for dining with us.
please come again.
_____________________________________________
its late...
toodles,
rach